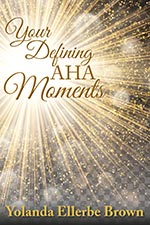 Books:
AHA Moments
The Approach, Success in Marketing
Seminars or Keynote Topics::
AHA Moments

What A Blessing

Blank Canvas

What If?...

You are Worthy of Your Dreams

Areas of Expertise:
Empowering Leaders - Entrepreneurship

Management Consulting - Career Coaching

Professional and Personal Development Coaching

Business Development - Sales Coaching

Facilitation/Public Speaking/Podcasting
A North Carolinian native, wife, friend, leader, entrepreneur, speaker, podcaster, trainer, business developer and author, Yolanda enjoys spending quality time and having fun with her husband, friends and family. She is passionate about helping others to realize their self-worth and dreams. She works to empower others to work from a position of strength and authenticity.
Yolanda coaches executives, professionals, and leaders in rewriting their life, or career script.
Yolanda has experience in sales and leadership training, facilitating forums, public speaking, developing and implementing strategies to assess and prioritize needs of the organization and clients. An organized, energetic and passionate leader with a history of achieving challenging corporate goals and assisting leaders to also achieve corporate goals and building highly productive teams.
Throughout her career she has received such awards: Two-time Sales Excellence Winner, Marketing Award Winner, Most Valuable Player, Star Award Winner, and President's Award
Yolanda and her husband Raymond are professional and personal development empowerment coaches, trainers, inspirational and motivational speakers and entrepreneurs in Texas. They truly help individuals to find their own truth in their coaching and training sessions. They also own a wellness business whose mission is to "stop human suffering, physically and financially. They truly help people have more time, wealth, and better health simultaneously. They lead a tremendous and successful team of professional relationship marketers known as the Majestic Eagles, and holds one of the highest if not the highest retention rate in their chosen company.
Honors and Awards in the relationship marketing industry include: Top Income Earners, Top Sales, Leadership Awards, Circle of Honor, Inner Circle Honorees, Clutch Award Winners, Trainers of the Year and they were chosen with a few other leaders to Ring the NASDAQ bell in New York for Fit Week.
Yolanda also enjoys reading, walking, volunteering and empowering
men, women, young adults and children to find and speak their truth. She is also an inspirational/motivational speaker.
Yolanda is available to speak at seminars, corporate events, retreats and other speaking engagements including stories/topics from her book AHA MOMENTS and podcast "AHA Moments, It is not just black or white. It is the gray that truly matters, It is the gray that unites us."