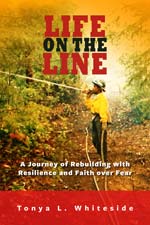 Areas of Expertise:
Post-Traumatic Stress Disorder
Depression
Anxiety
Self-Assessment
Youth and Young Adult Mentoring
Grief Support
Stress Management
Books Authored:
Life on the Line: A Journey of Rebuilding with Resilience and Faith over Fear
Change the Atmosphere with Encouraging Words (self-publish)
Rebuilding Life after Trauma (self-publish)
I am More Than my Hair (coloring book self-publish)
Contributing author - The Power of Transformation: Reinventing Your Life
Contributing author - Finding Your Voice: The Assertive & Empowered Woman
Seminars or Keynote Topics:
Rebuilding Life After Trauma
Rebuilding Life Post-Pandemic
The Weight of Grief
I am More Than my Hair - Annual Teen Workshop
As a Vision Catalyst, I am dedicated to women that are rebuilding life after experiencing trauma, using my See it! Say it!, Script it! Signature Program. I share my experience as a military veteran, victim, and survivor, creating customized workshops for small groups and one on one. See it! Say it! Script it! is the process of establishing a vision, rebuilding purpose, and re-engaging with the self to live the life of what is possible. I am dedicated to helping others reach their goals and I provide resources to support the vision to rebuild. With experience in human services and over 20 years in education, I have worked in the field of corrections for the Federal Bureau of Prisons and trained job search techniques for welfare-to-work participants.
Infusing spiritual wisdom and encouragement, I work with churches and various for-profit, and non-profit organizations. I hold a certificate of completion in Christian Education Teacher's Training from Friendship Baptist Church and a certificate of completion for the volunteer-mandated 40-hour Domestic Violence Advocate Training in the State of California.