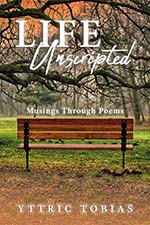 Book:
Life Unscripted: Musings Through Poems
Areas of Expertise:
(Poetry) A manipulator of words, profound storyteller of real life images and thoughts infused with passion translated into words (poems) performed through soul stirring, thought provoking, inspiring, captivating poetry

YTTRIC TOBIAS, is a native of Mound Bayou, Mississippi. He is married and the youngest of four children, so he understands the value of family as demonstrated to him by his parents. After obtaining his BSW from Mississippi Valley State University, he went on to gain his MSW from Western Michigan University. While pursuing his educational goals, a life that once seemed scripted became anything but, as unexpected changes occurred in the forms of relationships and societal ails. Unbeknownst to him, these things would not only transform his thinking but the lens in which he views life forever. It is through poetic expression, that he paints lasting images with words.