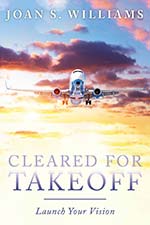 Books Authored:
Cleared For Takeoff: Launch Your Vision
Contributor of Longing to be on the Other Side of the Storm
Area of Expertise:
Life Enthusiast
Influencer
Intercessor
Prayer Warrior
Seminars or keynotes Offered:
Pushing out Purpose
Goal Setting
Insight to Flight Transformational Story Telling
Personal Growth
For 25 plus years, Joan has shared her gift of motivation by inspiring and encouraging others to seek their purpose and to achieve their dreams. She uses her personal life experiences to let others know that living in purpose is so gratifying.
In 2011 she founded Motivation 'N Motion a platform to speak to diverse audiences. She motivates her audience to Believe in their dreams, Reach beyond the norm to Achieve and accomplish that which they were born to do.
As a speaker her high energy and enthusiasm motivates you to want to know your purpose and achieve your goals. As a life enthusiast coach her goal is to help you recognize and cultivate the greatness within.
Former radio host of "Real Talk" WEXL 1340 Detroit. Currently she host a Wednesday prayer call and a bi-weekly motivational call. Her podcast P.O.P Push out Purpose can be heard via Anchor by Spotify.