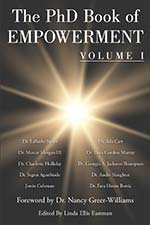 Books Authored:
Treatment Options of Post-Traumatic Stress Disorder in Children from the Perspective of Parents and Caregivers
The PhD Book of Empowerment
Areas of Expertise:
Health Informatics
Psychiatric Medicine Studies of Children
Quality Assurance
Cybersecurity reviews of healthcare institutions to insure compliance with HIPAA
Chief Information Security Officer for the Federal Government and Private Industry
Seminars or keynotes Offered:
Guest Lecturer at the National Allegiance of Mental Illness (NAMI)
Information Systems Security Consortium (ISC2) conference presenter 2010, 2011, 2013
Special Guest Host for WMAL Radio "Ask the CIO"
Annual Young Woman's Technical Conference - University of Maryland, College Park Maryland - Speaker 2012, 2013
The focus of Dr. Dara Gordon Murray's career is working for the Federal government and the private sector in the area of Information Assurance. She holds a Bachelor of Science and Master of Business Administration from the University of Maryland and a Master of Science Certificate from Johns Hopkins University and a Doctorate in Health Administration from University of Phoenix and is a Certified Information Systems Security Professional (CISSP) from the Information Systems Security Consortium (ISC2). She is a member of the National Honor Society of Leadership and Success. She resides in Germantown, Maryland with her husband Gary and has two daughters Alexandra and Sonia.