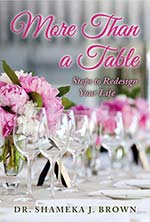 Book:
Women of Bravery: Balancing the Scales of Life, Love and Liberation (chapter author)
More Than a Table: Steps to Redesign Your life
Seminars or Keynote Topics:
What Will You Do with Your T.I.M.E.?

Take the T.I.M.E. to Differentiate

Unpacking the Reading Process

Women Empowerment Workshops

Areas of Expertise:
Educational Leader

Educational Consulting

Organizational Leadership

Professional Development

Curriculum and Instruction
Dr. Shameka J. Brown is a child of God, wife, mother, author, and educational leader with a humanitarian mind-set to make the world a better place and improve the lives of others.

She uses her T.I.M.E. to Teach, Inspire, Motivate, and Educate others. As an advocate for education, Brown helps youth overcome academic and life challenges to achieve their dreams. Brown has impacted youth as a classroom teacher, reading coach, reading interventionist, assistant principal, principal and currently as a regional assistant principal supporting multiple Title I elementary schools in the area of instructional practices to improve student learning.

Brown is a co-author of the book, The Woman of Bravery: Balancing the Scales of Life, Love, and Liberation. Brown holds a doctoral degree in education with an emphasis on Curriculum and Instruction, a master's degree and certification in Educational Leadership K-12.

She is a member of Alpha Chi National College Honor Society, Florida School Choice Association, Delta Kappa Gamma, an International Society for Key Women Educators. Brown is a mentor for Legacy League Inc. and serves her community through implementing programming initiatives as an active member of the Jacksonville Chapter of Jack and Jill of America Inc. where she has served since 2008.

She enjoys making beautiful fun-filled memories with her husband, Trisston, and children Shariah and Ryan.