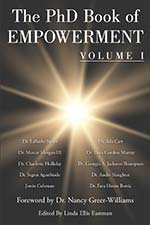 Books Authored:
The PhD Book of Empowerment
Area of Expertise:
Effective Professional Development strategies for employee self-efficacy and subjective well-being on the job
Seminars or keynotes Offered:
Professional development strategies for enhanced employee performance, self-efficacy and happiness on the job.
Child Development & Early Childhood Education
Benefits of employee ability testing (IQ)
Fara House Bostic, PhD., is a certified psychometrist / diagnostician and president of The Crescent Group, specializing in assessment services to determine employee cognitive and achievement ability, IQ testing, professional development training and employee performance strategies. Dr. Bostic is the founder of Doctors in Practice™, The Diagnosticians' Bootcamp™ and the co-founder of the Doc Talks™. She provides expert witness testimony, has over twenty years in education and is occasionally an adjunct professor at Texas Woman's University. Dr. Bostic is member of Delta Sigma Theta Sorority, Inc. She serves on the Denton County Board of Community Partners; a division of Child Protective Services, and the CH Collins School Board in North Texas. Dr. Bostic is a member of the Professional Woman's Network, National Society of Leadership & Success, a recipient of the National Engaged Leader Award (NELA), and nominated for the Shinning Star Award by the Better Business Bureau of Dallas in 2019. Her accomplishments, skills, educational background, and training reflect a commitment to the advocacy for embracing diversity, valuable professional development, self-efficacy and maintaining success through mindful happiness on the job. She believes that professional development is an essential component for increasing individuals' beliefs that they have what it takes to be an effective employee and enjoy what they were hired to do.
Dr. Fara House Bostic earned both her Doctor of Philosophy and Master of Education degree from Texas Woman's University, and a Bachelor of Science degree from the University of California, Santa Barbara. She resides in Dallas with her husband Donald, and Weimaraner, Mr. Moseley.