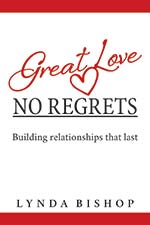 Expertise:
Emotional Intelligence and empathy training.
Relationship support, growth, creating meaningful connections
Increasing self confidence and self-esteem
Effective emotional control
Managing life transitions
Clarity in decision making
Book:
Great Love, No Regrets: Building Relationships that Last
Seminars and topics offered:
Living a Life Without Regrets
When Love Is Not Enough
Emotional Intelligence in Leadership
Lynda Bishop is a masters level therapist and certified empowerment coach who specializes in helping others create and grow Great Love to last a lifetime. As a certified emotional intelligence expert, she works with couples, individuals as well as leaders and work teams to lay the foundation for life fulfillment through relationship.
With 15 years of experience the corporate world including 12 years as executive management in sales and marketing prior to creating her own company, Lynda has spent the last 12 years as a business owner, therapist and coach, and trusted advisor to many. She has a unique ability to identify and address large and small scale connections, patterns, and challenges whether they appear in her client's personal life, professional life, or both. She holds a bachelor degree in psychology, a master degree in professional counseling and a certification as a professional empowerment coach and emotional intelligence facilitator. She is gifted is helping clients with team building, leadership development, small business entrepreneurial mentoring and passionately serves as the Program Director of the only Young Entrepreneurs Academy in Arizona.
She is an international speaker and facilitator who is focused on her clear vision of preparing more women for leadership globally through her non-profit endeavors. She has served on the board of the National Association of Women Business Owners for the past six years.