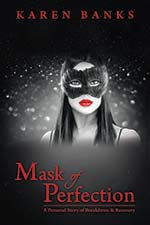 Books Authored:
Areas of Expertise:
CEO & Founder of AKA Associates, Inc.
Author of Mask of Perfection
Certified Executive Career Coach
Behavioral Interview Expert
Debunking Job Search Myths
The Art of Being a Super Connector
Career Pivot Expert
Karen Banks grew up in an ordinary middle-class family and discovered that her imagination was her superpower when she was five years old. As a kid, she had many wild fantasies about being a top fashion designer in NYC to one day owning her own company. Karen dealt with her fair share of failures early in her career, discovering fashion was not in the cards. Despite the setbacks, she never lost the vision of the life she was destined to live as an entrepreneur. In 2001, at the age of 36, Karen quit her job to follow her dream. She started a boutique recruiting agency, AKA Associates, Inc providing white-glove treatment and partnering with the crème de la crème financial services and hedge fund firms in NYC and CT. Specializing in technology was extremely competitive, but high stakes meant high rewards. She was living the life most people dream of until she wasn't.
In the Mask of Perfection, Karen writes about her nervous breakdown and how two friends had her involuntarily committed in August of 2001. It is an experience she rarely shared but enabled her to recognize the signs of burnout in 2016 before hitting another rock bottom. It was time to reinvent her firm and career.
Karen transitioned into executive career coaching and partnered with her lifelong friend. They both are passionate about sharing their personal experiences and supporting professionals in a career crisis.
At the beginning of 2020, Karen began to realize how many people gave up health and wellbeing, chasing what society deems as successful, and eventually forget their dreams. Suddenly it was clear her experience of losing herself is the story of many driven professionals. Her new "why" in life is to continue writing to help more people discover that removing the social masks allows you to live authentically, by your standards, no one else's.
Karen currently resides in North Carolina with her Rhodesian Ridgeback, Izzy. You can be a part of her journey as she discusses a series of subjects on discovering your authenticity, self-care, and mental health on her website blog, www.karenbanks.com, or follow her Facebook page Mask of Perfection.