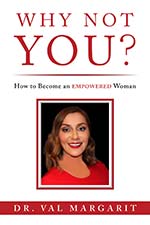 Areas of Expertise:
Management & Leadership Skills
Strategic Planning and Systems Thinking
Personal & Professional Development
Higher Education Leadership
Teacher Training & Effectiveness
Student Retention
Applied Sociologist - Use research to identify problems and then create strategies to solve them
Student Success & Retention Strategies
Books Authored:
WHY NOT YOU? How To Become An EMPOWERED Woman
WHY NOT YOU? How to Achieve Success in College and Beyond (Forthcoming, 2017)
Seminars or Keynote Topics:
Your Unconcious Mind Controls Your Behavior
Success & Self-Empowerment
Women's Empowerment Training:

Emotional
Health
Financial
Professional
Political
Spiritual

Effective Communication
Overcome your Fear of Public Speaking
Ultimate Strategies for Time & Energy Management
Complete your college degree faster and save time and money
Self-Esteem Strategies
Understanding and Navigating the School System (secondary and university levels)
Mindset For Success - Change your mind, change your life
The Gender Pay Gap - Why are women still paid less than men?
The Power of Positive Attitude
Stress Management
Holistic Health & Wellness
Cultural Diversity in the Classroom and the Workplace
Dr. Val Margarit is an award-winning educator, entrepreneur, author, speaker, and community leader, who's helped countless of people achieve personal and professional success.
She is the Founder and CEO of Dr. Val Margarit Consulting Services, a consulting and training organization committed to empowerment, excellence, and achievement.
Dr. Margarit serves on The Professional Woman Network International Advisory Board and she is the Professional Woman Network International Ambassador to Romania.
Dr. Margarit holds a Doctor of Education degree- Higher Education Leadership, an Education Specialist, a Masters, Bachelors, and Associates in Applied Sociology. She has been teaching for over 15 years diverse university classes on education leadership, teacher training, applied sociology and she serves as a dissertation and capstone adviser as well as training new teachers.
She is a committed educator and advocates for global education and women empowerment. Dr.Val gives back to the world communities as a teacher, volunteer, and benefactor. She volunteers as a mentor to women and currently serves a two-year term as President of the Homeowners Association.
Her passion and mission are to empower you to achieve your personal and professional goals and create a value-driven life that you want and deserve. One of her primary goals is to empower women worldwide to achieve an education so they can become financially independent and in control of their lives; hence, to become empowered.
Dr. Margarit will be a Speaker at the PWN International Conference, 2018.
Dr. Margarit is available for seminars, workshops, keynote addresses and coaching.