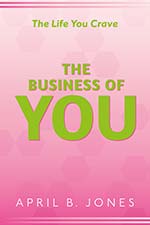 Books:
Beyond the Body – Developing Inner Beauty (PWN 2007)
The Young Man's Guide for Personal Success (PWN 2008)
Learning to Love Yourself (PWN 2009)
Life Skills for the African American Woman (PWN 2009)
Raising African American Boys (PWN 2009)
The Journey Within: Self-Discovery for Women (PWN 2009)
Remove the Mask! How to Become Real and Live the Life You Want! (PWN 2009)
The Woman's Handbook for Self-Empowerment – Lifting Women on a Global Basis (PWN 2009)
Areas of Expertise:
Leadership Coaching
Business Coaching
Executive Coaching
Seminars or Keynote Topics:
Leading Through Transitions
Leading Across Differences
The Assertive Woman
Customer Service
Diversity and Emotional Wellness for Women
Survival Skills for Youth
Survival Skills for Women
Women in Management
Women as Leaders
April B. Jones is a Certified Professional Coach in Washington, D.C. Her mission is to assist clients develop the strategy, motivation and accountability (their blueprint) required to succeed in their professional and personal lives. Her knowledge of organizational leadership, human capital management and information management is supported by partnering with corporations, non-profit and charity organizations. She has over 20 years of experience with the U.S. Federal Government in management and information technology, 10+ years consulting experience with non-profit organizations and small business enterprises.
She is a member of the International Coach Federation, is certified by the Center for Coaching Certification as a Professional Coach, holds a double Master of Science Degree in Information Management with a specialization in Government from Syracuse University in Syracuse, New York and Telecommunication and Information Systems from Capitol College in Laurel, Maryland, has been recognized by Strathmore's Who's Who Global Network for Outstanding Professionals, received a Governor's Citation by the State of Maryland for her outstanding accomplishments and dedicated service, serves on the Chief Learning Officer Business Intelligence Board, the Professional Woman Network (PWN) International Board and the Board of Directors for the Berry Valley Homeowner Association, and has also been seen in Black Enterprise and NAFE magazines.