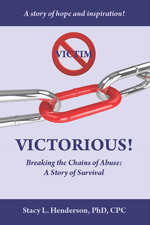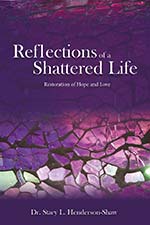 Books
Wellness for the African-American Woman: Mind, Body and Spirit

Living Your Vision and Purpose

Bruised But Not Broken

The Woman's Handbook for Self-Confidence

Teen Handbook for Self-Confidence

Raising African-American Boys

Raising African-American Girls

Becoming Your Own Best Friend

Second Chance Living

*Victim Victorious! Breaking the Chains of Abuse: A Story of Survival

*Reflections of a Shattered Life: Restoration of Hope and Love
Seminars and topics offered:
Order in the Church! (Church Etiquette)

Faith for the Front Lines: Serving in the Armed Forces

Managing Change and Transition

Teen Image and Social Etiquette

Life Skills - Managing it All

Professional Presentation Skills

Mind, Body and Spirit: The 'Whole Person Concept'
Dr. Stacy L. Henderson-Shaw, a native of Savannah, Georgia, is a retired Naval Officer. She is dedicated to motivating individuals to achieve their best mental, physical and spiritual health. She is especially dedicating to enhancing the self-esteem of young and young adults. She provides outreach services to inner-city youth, providing them with educational resources and life skills necessary to reach their personal and professional objectives. She has Degrees in Education, Health Services Management, Christian Leadership and Business Administration. A Proverbs 31 Woman, she is blessed with many God-given gifts. She is a member of the PWN International Advisory Council and the Authors' Speakers Bureau. In addition, she is a member of the National Association of Female Executives, National Women Veterans United and Delta Sigma Theta Sorority, Inc.
Dr. Henderson-Shaw is available on a local, national and international basis to conduct one-on-one and group Coaching and Consulting, Christian Education, Armed Forces Ceremonies, Youth Assemblies, Seminars and Conferences. Stacy is married to Clarence L. Shaw and together they have a beautiful blended family.